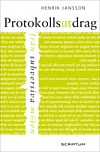 Henrik Jansson's 2007 novel Protokollsutdrag från subversiva möten, as it is called in the Swedish original, is a fine and unusual novel. It deserves not only to be translated, but also to be read in Sweden. Because this is a novel written by a Finland-Swede.

It will be argued that many Finland-Swedish authors have joint editions in both Finland and Sweden, for instance Lars Sund and Kjell Westö, but even by Finland-Swedish standards, Jansson's novel is published by a rather small press: Scriptum in Vasa. So it is unlikely that he will be widely read in Sweden.

The novel is nonetheless significant. It tells the story of how Communist youth from the 1970s grew disillusioned, but also weaves into the plot personal details from family life in the 2000s. The former aspect is the more important, perhaps, although Jansson's descriptions of his relationship in the 2000s are convincing.

The Communist youth movement in Finland was quite powerful. Maybe only Pirkko Saisio has written similar novels, but she wrote in Finnish. This is one of the very few Finland-Swedish novels that closely documents the feel, the music, the meetings, the trips to Tallinn, the blue-shirts and the red-shirts. Because even then the youth wings of the Communist movement were split in two. The so-called taistoiter, or hardline Communists, named after the leader of the hardline faction, Taisto Sinisalo, wore the uniform blue shirts, whilst the more liberal wing, which had the weekly Ny Tid as their mouthpiece, wore red uniform shirts.

I know all this because I was, at the time, the classic fellow-traveller. I sympathised with Communism, but could never bring myself to join any party. As I was living in Finland during the 1970s, first as a year-abroad student at Åbo Akademi, and later as an English conversation teacher in Jakobstad and Vasa, I experienced this whole ferment at first hand. When I left Finland in 1980 to go and teach in Umeå, Sweden, my friends were still fervent Communists. By the 2000s, they have become Greens, or have fallen silent.

But Jansson decided, very interestingly I feel, to document what it felt like to be a member of the Finland-Swedish wing of the Communist youth movement (blueshirts, as I believe) and how, in the early 1980s, he threw away all his written Communist material, including newspapers, magazines, minutes of meetings, and so on, something he now regrets. Because it was, to an extent, the documentation of his own life. But with only memory to go on, maybe Jansson has avoided getting bogged down in detail.

Henrik Jansson has always been keen on jazz and rock music. So there are plenty of mentions of Dylan, Donovan and John Coltrane, as well as home-grown bands and singers, plus leftwing composers and martyrs, such as Victor Jara and Theodorakis. And his protagonist has had good and bad relationships with women. So the actual number of political meetings described in detail are rather few, in comparison with the rest of the test.

Jansson swings, sometimes within the same paragraph, between the present (around 2005) and the distant 1970s. But the reader is not led into a labyrinth of narration. It is a readable book.

So I hope that those readers who saw the pathetic antics of the Russian provocateurs and their Finnish supporters today in Helsinki, by way of the online coverage, will one day read Henrik Jansson's novel to see at close quarters what drove young people in the 1970s, often from quite middle-class homes, to become Communists.