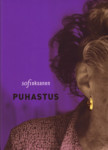 The Estonian press has been paying a good deal of attention to the recent launch of the Finnish author
Sofi Oksanen's
novel
Purge
, which has just appeared in Jan Kaus' Estonian translation. The cover of the Estonian translation has been kept the same as that of the Finnish original. The translation was presented right across Estonia: in Kuressaare on the island of Saaremaa, in the seaside resort of Pärnu, in the university city of Tartu, plus the capital Tallinn.

The rights for this particular novel, which deals with Estonia and moral dilemmas under the Soviets, has been bought by publishers in 23 countries, including the United States. Oksanen herself says: "I regard it as important that my novel appears in the USA and Great Britain, where translations of Finnish literature do not usually appear". And she also mentioned that only 2% of fiction in Britain consists of translations. (Whether the percentage is two or three is not important.)

The novel is being published in an edition of 8,000 in Estonia, a large number of copies in post-Soviet Estonia, down from the enormous editions once published in Soviet times, when there was little other entertainment than reading. This is especially high, considering there are only about one million Estonian residents with Estonian as their mother-tongue. The book has also sold well in Finland itself. I hope the English translation comes soon.
With regard to attention to detail, Oksanen points out that her grandparents came from the Estonian countryside, and she had herself seen such implements as a scythe, and material such as cheesecloth, as used to literally make cheese with.
It cannot be denied that Oksanen herself has become something of a cult figure in both Finland and Estonia, where her Gothic presence can be seen frequently in the press. But because of the fact that the latterday Communists might try to disrupt the book launch, the Estonian police were keeping an eye on the event, held at the Finnish Embassy in Tallinn. Oksanen's play, based on this novel, is also on the
Berliner Festspiele
programme.